STORIES OF THE WOLF.
I HOPE TO BRING SOME GOOD STORIES ABOUT THE WOLF.
THE TRUTH.
ALSO SOME LOVELY PICTURES .
FIRST OF ALL, THE WOLF IS NOT THE BAD GUY THAT PEOPLE THINK HE IS. HE IS A SHY ANIMAL, AND WILL AVOID HUMAN CONTACT. LET US BE HONEST, HUMANS ARE THE BAD GUYS, AND HAVE BEEN SINCE TIME BEGAN. ANYTHING A HUMAN DOSN'T UNDERSTAND , IT IS EITHER CAPTURED, TO FIND OUT WHAT MAKES IT TICK, OR LETS KILL IT.
WHY DO WOLVES HOWL ?.
ALTHOUGH PEOPLE ALWAYS ASSOCIATE HOWLING TO THE WOLF I DONT, SURPOSE THEY EVEN KNOW THAT A WOLF, BARKS, WHINES, YELP,SNARL AND MOAN A LOT MORE OFTEN THAN THEY HOWL. THE CENTRE OF A WOLFS UNIVERSE IS ITS PACK, AND HOWLING IS THE GLUE THAT KEEPS THE PACK TOGETHER. SOME HAVE SPECULATED THAT HOWLING STRENGHTHENS THE SOCIAL BONDS BETWEEN PACKMATES; THE PACK THAT HOWLS TOGETHER, STAY TOGETHER. THAT MY BE SO, BUT CHORUS HOWLS CAN ALSO END WITH NASTY QUARRLES BETWEEN PACKMATES. SOME MEMBERS USUALLY THE LOWEST RANKING, MAY ACTUALLY BE PUNISHED FOR JOINING IN THE CHORUS. HOLWLING IS ALONG DISTANCE CONTACT AND REUNION CALL, FOR A WOLF SPERATED FROM HIS PACK.WHEN A WOLF HOWLS, NOT ONLY CAN ITS PACK MATES HEAR IT BUT SO CAN ANY OTHER WOLF WITHIN RANGE, THESES OTHER WOLVES COULD BE MEMBERS OF A DIFFERENT PACK. COMPETITORS FOR TERRITORY AND PREY, HOWL TO CLOSE TO THESE AND THEY COULD SEEK YOU OUT AND KILL YOU.
PUPS, ESPECIALLY THOSE UNDER FOUR MONTHS OLD, LOVE TO HOWL AND WILL USUALLY REPLY TO ANY HOWLING THEY HEAR, EVEN THAT OF TOTAL STRANGERS, THIS IS UNDERSTANDABLE, SINCE PUPS HAVEN'T YET LEARNED HOW TO IDENTIFY THEIR OLDER PACKMATES.
WHEN TWO PACKS DO MEET , THEIR RELATIVE SIZE USUALLY DECIDES THE OUTCOME.THUS SMALL PACKS ARE OFTEN QUITE RELUCTANT TO HOWL AND DRAW ATTESION TO THEMSELVES, WHERE AS LARGER PACKS HOWL READLY. BUT PACKS CAN FIB TO ONE ANOTHER ABOUT THEIR SIZE.
SO WOLVES HOWL TO FIND THEIR COMPANIONS AND TO KEEP THEIR NEIGHBOURS AT BAY. POPULAR BELEIVE IS THAT THE WOLF HOWLS AT THE MOON, BUT THERE IS NO EVIDENCE THAT THIS IS SO. WOLVES MAY BE MORE ACTTIVE ON A MOONLIT NIGHT WHEN THEY CAN SEE BETTER, BUT AS FOR HOWLING AT THE MOON I BELIEVE IT WOULD BE WASTING ITS BREATH.
SOON A LOT MORE STORIES AND SOME BEAUTIFUL PICTURES.
GROUPS OF NORTH AMERICAN INDIANS SAW THE WOLF AS A MODEL FOR HUNTING AND THEY PLAYED A SIGNIFICANT ROLE IN THE RELIGIOUS LIVES OF THE PLAINS TRIBES. IMAGES OF WOLVES OFTEN APPEARED IN RELIGIOUS CEREMONIES AND INDIAN HEALERS INCLUDE WOLF SKINS IN THEIR MEDICINE BUNDLES, THE COLLECTIONS OF SACRED MATERIALS THAT THEY USED FOR CURING ILLNESS. OTHER NATIVE AMERICAN HUNTERS WHO HAVE KNOWEN THE WOLF INTIMATELY ARE THE ESKIMOS. TODAY AS IN THE PAST GROUPS OF ESKIMOS SHARE THEIR HOMELAND ON THE COLD NORTHERN TUNDRA WITH WOLF PACKS HUNTING THE SAME PREY AND LEADING THE SAME KIND OF NOMADIC LIFE. INDIANS OF EARLIER TIMES AND THE ESKIMOS OF TODAY RESPECT THE WOLF FOR ITS SKILL AS A PREDATOR. THEY ALSO ADMIRE THE WOLF'S DEDICATION TO THE WELFARE OF ITS COMPANIONS, A MODEL OF SOCIAL BEHAVIOUR FOR HUMANS AS WELL AS ANIMALS. ESKIMOS SOMETIMES KILL WOLVES FOR THEIR SKINS OR OTHER SPECIFIC REASON, BUT THEY BELIEVE THAT THEY ARE TAKING THE LIFE OF AN EQUAL, NOT SLAUGHTERING AN ENEMY.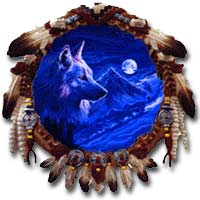 WEREWOLVES, BIG BAD WOLF. HELPED INDUCE GENERATIONS OF PEOPLE TO BELIEVE THAT THE WOLF WAS A SNARLING, LURKING BEAST HIDING IN FORESTS WAITING FOR A EASY LUNCH.